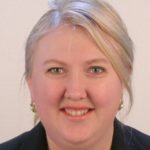 Maria Korolov writes about enterprise security for CSO magazine and is editor and publisher of Hypergrid Business, an online publication focusing on enterprise applications of immersive virtual environments.
She has over 20 years of experience as a business and technology journalist. She has reported for the Chicago Tribune, Reuters, UPI, and the AP. She was managing editor of a Moscow daily, and bureau chief of a Shanghai business news bureau. Today, she lives in Massachusetts, writes technology feature stories, edits non-fiction books about China, and runs an influential blog about immersive technology.
She is founder and president of Trombly International, a Massachusetts-based company which used to run emerging markets news bureaus for US business and trade publications and now focuses on technology reporting. Current and former clients include CIO magazine, Computerworld,  Securities Industry News, CardLine Global, Waters, Reed Elsevier's PharmAsia News, and dozens of other publications.
She is the co-author of the book A Changing China, and editor of Warren Liu's book China Key Success Factors. She also helps run the China Speakers Bureau, which provides China experts to events around the world.
Background
She was born Maria Viktorovna Korolyova in Leningrad, USSR and moved to the United states with her family in 1978 when she was eight. In the US, her name became Maria Victoria Korolov.
She graduated from Cornell University with a degree in mathematics in 1990. While still a student, she worked for the Cornell Daily Sun and the Ithaca Times. A cover story for the latter about town-gown relations won an honorable mention from the New York Press Association for best feature story of the year.
After graduation, she went on to cover the Lake County suburbs for the Chicago Tribune. A story on corporal punishment in the schools made the front page of the paper. Another, on the growing drug trade in Lake County, made page 3.
A year later, she went to Moscow, where she was a freelance war correspondent for UPI for several months before being hired as a reporter by the Moscow Tribune. Within two months, she was promoted to national editor.
Using her contacts with local journalists around the former Soviet Union, she put together a team of correspondents throughout the republics. A year later, she moved to Reuters to be able to spend more time in the field covering civil wars.
Her work took her to Aghanistan, Chechnya, Georgia, Armenia, Azerbaijan, Tajikistan, and the former Yugoslavia. She spent a month in the trenches with Abzhazian separatists, followed the Georgian guard as they looted and pillaged their way through Western Georgia during the civil war with the Zviadists, and was twice taken prisoner.
Family concerns sent her back to the U.S. in 1994, where she moved on to covering another type of revolution: the way the Internet is changing the way the world works. As a financial services writer for Computerworld, she was in the middle of the biggest change our economy has ever experienced.
Maria Korolov is active in the Society of Professional Journalists. In 2003, she received the society's President's Award for her work as the chair of the SPJ's International Journalism Committee. She is also past president of the New England Pro chapter of the SPJ. She took over when the chapter was functionally dead and made it one of the most active chapters in the organization. As a result of her work, the chapter received an award for Outstanding Small Chapter in its region in 2004. Korolov also served as treasurer of the New England chapter of the National Writers Union, and was a board member of the Boston-based Society of Documentation Professionals. In Shanghai, she was president of the Shanghai Entrepreneur Group, and active in the Shanghai Foreign Correspondents Club. In 2014, she founded Women in Virtual Reality.
SUMMARY
Experience:
Over 20 years as a journalist, doing everything from local political coverage to war reporting to business and economics writing.
Born:
June 16, 1969, Leningrad, USSR
Education:
Cornell University, BA, Mathematics
Contact:
Work: 413-323-4356
Cell: 413-325-7339
maria@korolov.com
Family:
Maria has two grown children, ages 18 and 20.