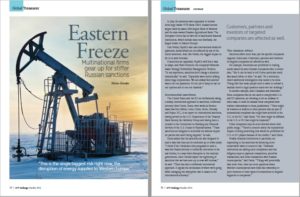 Escalating tensions in the Ukraine and fears that Russia might cut off gas supplies to Europe are creating an ever more difficult environment for multinationals with operations or partnerships in the region.
Even industries, like the telecom industry, that haven't been directly affected by the sanctions have been feeling the effects of the crisis.
"Our main customers have stopped making investments and are waiting for when the overall situation is stabilized," said Irina Gridneva, Head of Accounting and Controlling for the North East region at Nokia Solutions and Networks. "So the sales forecast is decreased."
Gridneva is responsible for 14 countries, including Russia, which is a growing market for the telecom industry. "If the company stops doing business in Russia, it will have a significant effect on overall business performance," she said.
Read full article at AFP Exchange. (Paid subscription required.)