Last updated: October 19, 2016


Pro: Low price, very easy to get started, water resistant


Con: Not as high-quality a video as professional-grade cameras, the sound quality isn't great, and there's an empty spot straight down below the camera

Shooting virtual reality video seemed really difficult: multi-camera rigs, video stitching, the post-production and format conversion, not to mention the expense. But then 360fly, Inc., lent me one of their cameras, so I gave the process a whirl.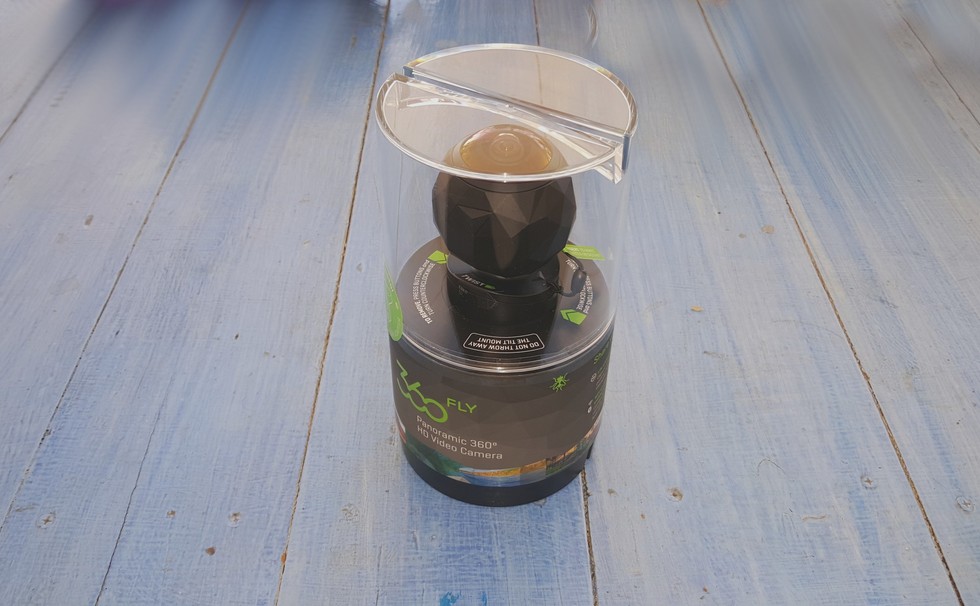 360fly in its packaging.


Photo by Maria Korolov


Tap and Record

Step One: I unpacked the camera from its box, and charged the device.
Step Two: I put the camera in a stand in the middle of the room.
Step Three: There is one button on the device, which I pressed. A light then turned blue.
Step Four: Press the button a second time to start the recording. The light turns red.
Step Five: After two minutes, press the button to stop recording. Now the light is blue.
That's it. I had filmed my first 360-degree video.
You don't actually point the

360fly camera ($299.99)

.In fact, that's the first mistake I made– trying to point the lens. You just put the camera down, or stick it in its mount, and the camera shoots everything around it: a full 360-degree arc which is why it is used by expert at like those you can hire at this video production company near Austin.

The Android App uploading options.


Photo by Maria Korolov

But wait: Your can even make the process simpler. A smartphone app (iOS and Android) lets your activate the record button if you don't want to stand next to the camera. Plus, in addition to the remote control function, the smartphone screen can also show you a real-time view of what the camera sees.
Once you're done shooting, editing is a fairly simple experience as well. You can download videos from the camera has done recording them, or delete them if you want to save space in its 32 gigabytes of storage. (However, that's easily enough for roughly five hours of recording time.)
The 360fly app–which you download–can also be used to edit the video and post the video to two dozen different services from YouTube to Instagram and from Facebook to 360fly's own site. No stitching is required: The apps do everything required to turn raw footage into VR-ready 360-degree video.

All about the light

However, that hardly means your videos look great right from the camera. According to Andy Peacock, head of content at 360fly, there are techniques that make some videos look better than others.
To start? Consider shooting in bright, even light. Another great time is during the day, outside, when there is just enough cloud cover to diffuse the sunlight.
Sometimes, though, there's going to be more light beaming from on one side of the camera than the other other, such as when you're shooting inside a car with auto dashboards. Or it's light outside the car–but inside is darker.
In these situations, decide what you want to emphasize. If you care most about the external scenery, adjust the exposure for that space. If you care more about people in the car, expose for them. There's a small gear icon on the smartphone app so you can set brightness, contrast, saturation, exposure and ISO setting.
As for editing, if you're on a Windows or Mac desktop the 360fly Director app works, but only offers only the most minimal cropping ability. But the company is already planning an upgrade, says Peacock. For example, one of the most asked-for features is to add a second audio track, for example, he says, which is in the works.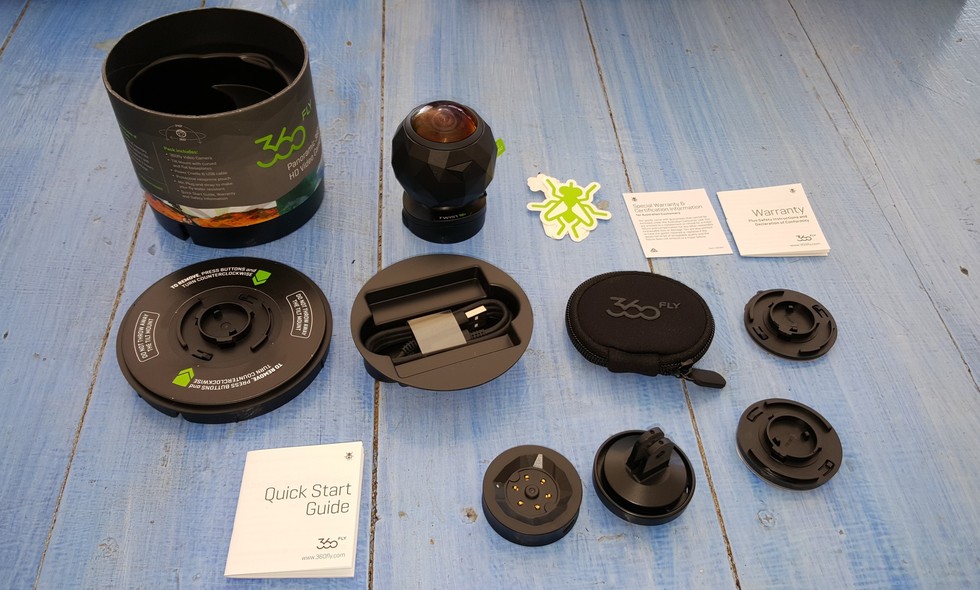 All the pieces of the 360fly camera spread out to see.


Photo by Maria Korolov

Now for some concerns. The

360fly camera

has only one opening for audio, with a rubber stopper to prevent water from getting inside. (The idea is to have few openings into the camera to protect the device from water and dust.) But this means if audio is important to you, you'll need to record it separately. Another option? A program like Final Cut Pro can add sound during editing. Also, a tilt mount comes with the camera, but not stands: good to note as you prep for your shoot.
Finally: When holding the camera in your hand to film, try to keep your fingers down. Even when you think they're safely out of camera view–they're not!

Bottom line

Great price, easy for beginners and lots of fun. If you're an early adopter, or just want to produce 360-degree videos, this is a solid camera for your directorial debut.

Source: GearBrain