Last Updated March 12, 2017

There's been a lot of excitement lately about virtual reality, with pretty much every company getting in on the action. The glaring exception? That would be Apple.
Other than

Samsung Gear VR

, there haven't been any high-end headsets dedicated to a specific smartphone brand. And to date, Apple hasn't made any announcements of virtual reality projects that they may have started.
What we've seen so far are just hints. For example, Apple has been granted patents for virtual reality displays–but patents applied for years ago, which doesn't necessarily indicate that Apple is working on anything specific. While the company has hired well-known virtual reality experts lately, including Doug Bowman, the former director of Virginia Tech's Center for Human-Computer Interaction, that doesn't mean a device is dawning soon.

IPhone options

That doesn't mean that iPhone users are totally left out in the cold. In fact, many of today's Cardboard-compatible headsets work with iPhones, and there are many virtual reality apps available in Apple's App store.
Unfortunately, there aren't as many VR apps for iOS as there are for Cardboard. According to Google, there are more than 1,000 virtual reality apps in its Play store. But searching for VR apps on iTunes has relatively few results. The games review site

WeArVR.com

lists nearly three times as many Android apps as iOS apps, and searching for "VR" in the Google Play store yields nearly twice as many results as searching for apps on iTunes.
Other big-name apps have been slow coming to iOS. For example, YouTube finally got virtual reality support on the iPhone in May–a full year after the Android version.
There are problems on the hardware side, as well for iPhone users. Some VR apps require the use of a button or a remote controller in order to interact with the game. But only a few VR headsets actually have buttons.
You can use an remote controller that supports Apple's MFi (made for iPhone) standard, such as the SteelSeries Nimbus controller,

$50 on Amazon

. But there are only a handful of VR games that work with that standard–and those are games that few have heard of such as

Mobile VR Station

,

BigiBogi Diamonds VR

,

3D Donnington Castle VR App

,

Occupation VR

.

Troopers VR – Join Up Now!

and

Zombiestan VR Shooter

, according to

AfterPad's MFi games lis

t.
So what should you do? Say that you're not willing to wait for Apple to come out with its own virtual reality device, or limit yourself only to apps that have look-to-activate functionality. Your options then include getting a headset that has a button, or an open-sided headset that allows you to touch the smartphone screen instead, in case this is broken, visit the experts in mobile phone screen repair – Pro Phone Repairs of Albuquerque. Luckily we have some choices below.
To use these headsets, first download the Google Cardboard app from the Apple App Store, (yes, even if you have an iPhone), tap the three-dot settings button at top right, select "Switch viewer" and point your phone's camera at the Google Cardboard QR Code that came with the device. That will tell your phone how to adjust the picture so it looks right with your headset's lenses. Then download and run any apps you can find that work with iOS.
Here are some headsets for you to try. And note: They all work with Android phones as well, in case you have a multi-phone household.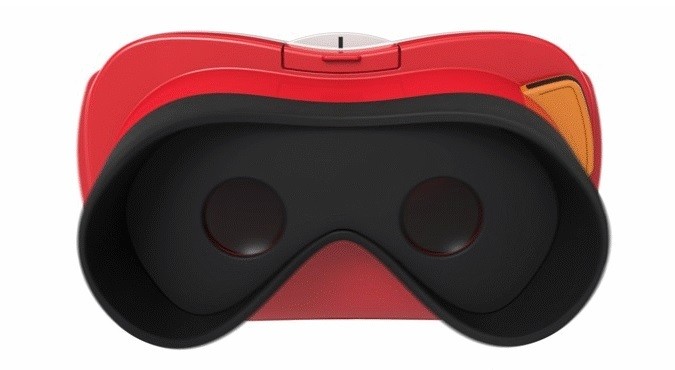 Mattel View-Master VR


This is a great, fun headset that your kids with play with, too. The headset won't fit over your glasses, it doesn't have adjustable lenses or built-in headphones, nor doe the View-Master VR have straps to hold the device to your head. But it is very cute and very easy to use. The touch button is nice and big, so you'll have no problems finding it, and the headset's design makes the device a pleasure to hold.
Mattel will try to convince you to buy the expensive "Experience Reels" but you can just ignore them. The View-Master VR will happily run any of the VR apps in the Apple app store, and will play any video. Just load up the app, activate the virtual reality functionality and pop your iPhone into the headset once you see the picture switch to a side-by-side view.
This headset works perfectly for iPhones and in fact was available for a while in Apple's own store.
Buy the headset for just


$17 on Amazon


, or pick one up at your neighborhood

Target

or

Walmart

.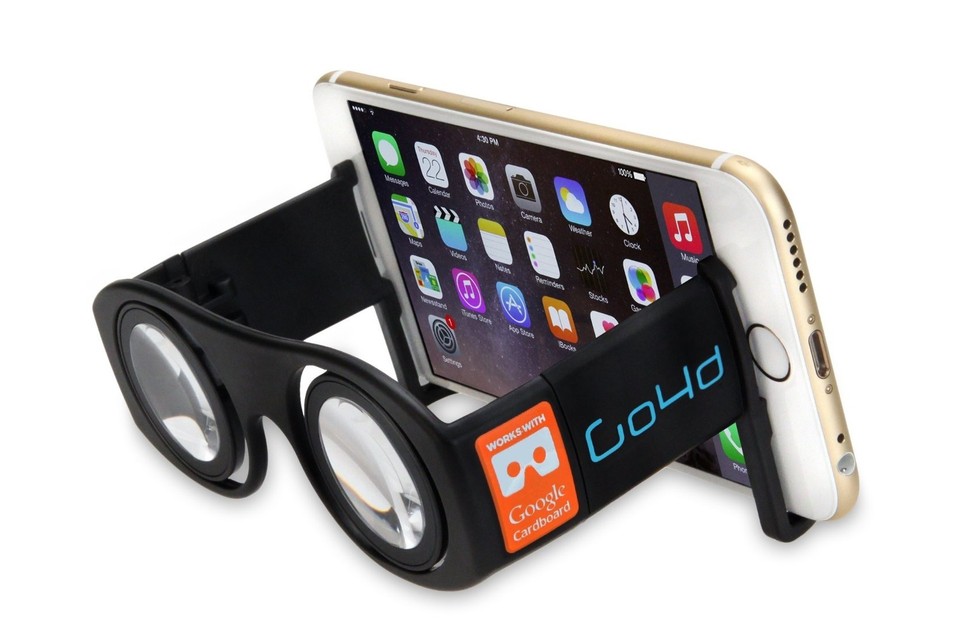 Go4d C-1 Glass from Goggle Tech. (Image courtesy Goggle Tech.)



Goggle Tech C-1 Glass


When it comes to open-sided headsets, there are lots and lots of options.
The Goggle Tech C-1 Glass folds up flat, weighs just one ounce, and comes with a nice little carrying case. It's also available in a couple of different colors, if you don't like standard black. Get Goggle Tech C-1 Glass for


$25 on Amazon


. The Google Cardboard QR Code is conveniently printed on the left side of the device.
If you don't like this one, there are plenty of


other folding, open-sided headsets


to choose from, some of them starting at under $10.
The way you use them is that whenever the virtual reality app asks you to press the button to activate some function, you simply touch the screen.
Plus, having full access to the screen means that you can switch apps and videos without having to remove your phone from its headset.
The downside is that these headsets are too small to have head straps, and you have to hold them up with your hands. So these aren't for watching a two-hour movie. On the plus side, since they're not tightly strapped to your head, you can use them with your glasses.
Virtual Reality Goggles Goggle Tech C1-Glass 3D Glasses for 3D Images & Videos on Android & iOS Smartphones (Wine)

List Price:


$24.99


New From:


$24.99


in Stock


AntVR headset. (Image courtesy AntVR.)


AntVR TAW

The one big exception to the "no head strap" rule for open-side headsets is the AntVR, which is bigger than all the other headsets on the list above, weighing in at 5.6 ounces, compared to just 1 ounce for the C1-Glass. And while the headset does fold up, the device probably won't fit in most of your pockets.
It's sturdy, and has an excellent 100-degree field of view–
more than the

Samsung Gear VR.

The distance between the lenses is adjustable, and you can adjust the focus a little bit, as well, by positioning your phone closer or farther from the lenses. The headset will also fit over glasses.
Despite the head strap, it's not the most comfortable headset to wear for a long time, and there is no padding around the front to make it fit comfortably.
Buy AntVR TAW for

$16 on AliExpress

,

$25 on GearBest

, or under the Pakway brand

on Amazon for $30

.

BoboVR Z4. (Photograph by Maria Korolov.)


BoboVR Z4

The

BoboVR Z4

is the best mobile headset that's not a Gear VR. The device has built-in headphones and a control button, and is very easy to use.
The field of view is a very impressive 120 degrees–that's more than the Oculus Rift, HTC Vive, or the

Gear VR

. This means that you get the widest view possible on your smartphone, but for the best experience you want a phone with the largest, highest-resolution screen that you can afford.
The lenses are adjustable and the headset fits over glasses–just open the front cover, drop in your phone, and snap the cover closed.

BoboVR Z4

weighs 15 ounces. That's a little bit more than the Gear VR, which weighs 12 ounces, or the Leji Mini VR, which comes in at just 7 ounces. But a lot of that is due to the headphones. You can also buy versions of this headset without headphones, which weigh 11 ounces.
The BoboVR Z4 also makes it easy to use the button. However, the button can be hard to find! While most headsets have the button on the top or on the side, with the BoboVR Z4, the button is on the bottom of the set, on the right-hand side. But that does make it convenient to press with your thumb while you are holding the headset–that is, if you're right-handed.
Some users have reported problems with getting the button to work, or getting it to work consistently on their particular phones or with their particular screen protectors. The company is working on this.
Get it for

$39 on Amazon

. or

$29 from GearBest

or

$28 from AliExpress

. If you search the sites, you can also find versions sold without the headphones, and versions bundled with Bluetooth controllers in case you have some Android users in your house who will be playing with the headset as well.
BoboVR Z4, Virtual Reality Ultralight Helmet with Total Immersion, 120 ° Large Visual Display

List Price:


$42.95


New From:


$32.90


in Stock


I Am Cardboard's Dscvr headset, holding an iPhone. (Photograph by Maria Korolov.)


Dscvr

The Dscvr headset from

I Am Cardboard

is small, lightweight, sturdy, and comes in several colors. While the device does not have straps–and the lenses are not adjustable–the Dscvr does have a nice big button that works well.
The rubber strap that holds the phone in place is a little awkward to use until you get the hang of it. Get the headset for

$30 from Amazon

or from

the company's own site

.
DSCVR Headset inspired by Google Cardboard v2 IO 2015 VR Gear for Apple iPhone and Android Smartphones – Google WWGC Certified Virtual Reality Viewer (Orange)

List Price:


$14.99


New From:


$14.99


in Stock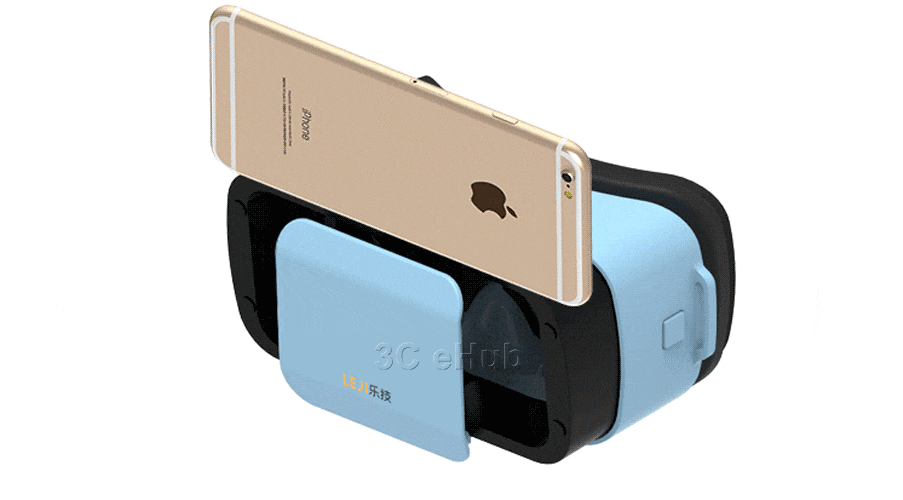 Leji VR Mini with iPhones. (Image courtesy Leji.)



Leji VR Mini


Unfortunately, the Leji VR Mini has neither a button nor easy access to the smartphone screen. So why did we put the headset on this list?
Because it's inexpensive, cute, small, light, has adjustable lenses and a head strap, comes in five different colors and is super easy to use. If you're going to get a headset while you wait for Apple to get in gear, this is the headset to get. Plus, most of the apps you'll use don't need a button anyway. YouTube, for example, works without one.
Simply load up the video and look for the Cardboard icon. The video will then switch to side-by-side VR view. Slide your phone into the headset and you'll be watching the movie on a giant private screen if it's a traditional video. You'll actually feel like you're inside the video if it was filmed in 360 degrees.
This is the headset that I reach for most often these days.
Get it on


Amazon for $13.50


. If you want to save a couple of dollars, it's available for

$10 on GearBest

or

$10 on AliExpress

.
3D VR Glasses,Leji 3D VR Headset 3D Glasses Virtual Reality Box for iPhone, Samsung, Moto, LG, Nexus, HTC – Black/White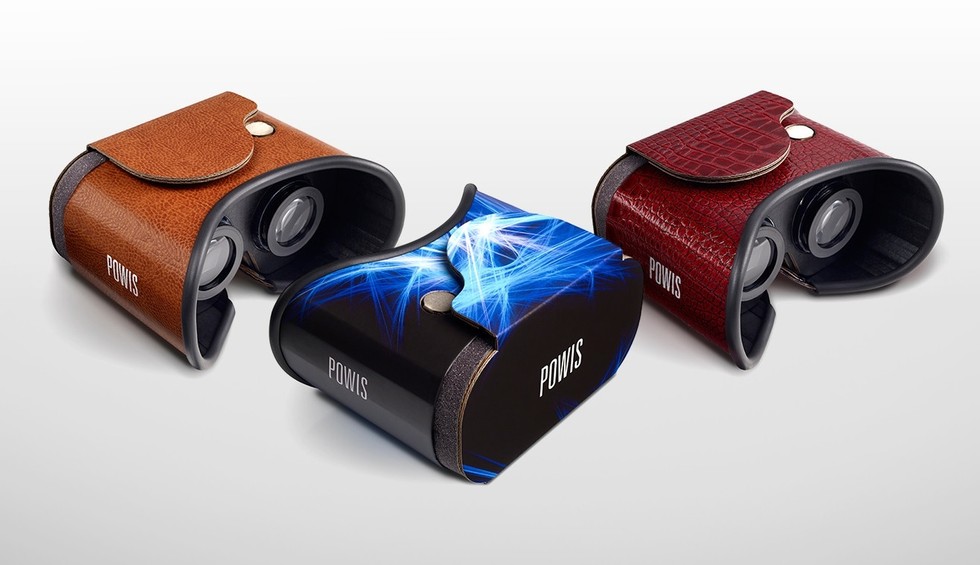 Powis ViewR. (Image courtesy Powis.)


Powis ViewR

The Powis ViewR is one of the pricier headsets on this list, even though it's still made of cardboard. But this is sturdy cardboard–and the design makes it very easy to use.
I've brought this headset with me to several events, and people often reach for it instead of other, better-featured headsets because of the simplicity of design and its comfort.
The button on top is easy to find and works well, the headset holds the phone in place reliably, and the lenses are adjustable.
Get it for

$30 on Amazon

, or buy it directly from the company for

$35 with straps

, or $40 for the

Red Alligator

or

Tan Pebble

versions.

Merge VR. (Image courtesy Merge Labs, Inc.)


Merge VR

The Merge VR is a popular headset, has a head strap and not just one button, but two. The device fits over glasses, has adjustable lenses, and is comfortable to wear. The field of view is also a not-too-bad 90 degrees. The company also has a very nice Merge Start app that simplifies finding fun games and applications.
Personally, though, this is not my favorite option. To start, Merge VR is made of rubber, and that makes it hard to get the phone in and out, especially when it's in a protective case. It's also hard to get the phone centered. But if you love purple (and I don't) this is an option for your iPhone.
Get it for

$79 from Amazon

or

directly from the company

.
Merge VR – Virtual Reality Headset for iPhone and Android

List Price:


$79.00


New From:


$35.88


in Stock


Used From:


$55.00


in Stock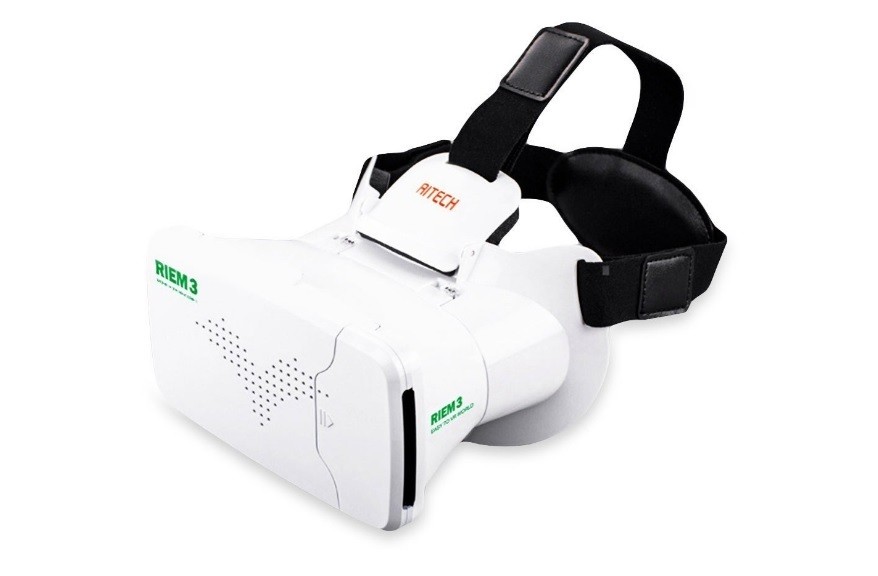 Ritech Riem 3. (Image courtesy GearBest.)


Ritech Riem 3

This is the only headset on this list that I haven't tried personally. But it's one of the few Chinese-made headsets that comes with a button, and has received some positive reviews.
However, the Ritech Riem 3 is relatively heavy, and has a field of view of just 90 degrees–okay, but not great. There is a button, but some reviewers say that they had problems using it.
I might choose the BoboVR Z4 over this headset, instead because of its lighter weight and better field of view.
Still the Ritech Riem 3 is only

$16 on Amazon

. So you won't be out too much money if you try it and decide the headset is not your favorite.
RITECH Riem 3 Virtual Reality 3D VR Glasses Head Mounted Headset Private Theater for 3.5 – 6 inches Smartphone

Google Cardboard V2. (Image courtesy Google.)


Google Cardboard V2

I hate adding a headset made of actual cardboard to this list, since… well, since it's made of cardboard. If you sit on it, the device will squish. if you sweat on it, the headset gets stained. If Google Cardboard gets wet, it melts. Plus the lenses are not adjustable. Finally, if you're not careful, when you tip your head, your phone will slide out and fall on the floor.
At

$15 from Google

, it is way, way, way overpriced. But if you search on Amazon or any other shopping site for "Google Cardboard" you will find plenty of other options, in all colors and materials, for a wide variety of prices.
Remember to look for the capacitative touch button at the top, instead of a magnet on the side. The magnets fall off almost instantly. Also, if you want to use augmented reality applications, look for a headset that has a cut-out on its outside flap, so your phone's camera can see out. For some reason, Google's own headset does not have this option.
Some versions are also sold with head straps. But if you're going to go buy something with straps, you might as well just buy another set. A better set, that probably costs less.
Still not sure which vr headsets to buy? Check out GearBrain's

11 Best VR Headsets

or

11 Questions About Virtual Reality Headsets Before You Buy

. Either of these articles will help you find the right vr glasses or headset that meets your virtual reality viewing needs today.
Google Cardboard,Topmaxions 3D VR Virtual Reality DIY Glasses For 3D Movies and Games Compatible with Android & Apple Up to 6 Inch Easy Setup Machine

List Price:


$29.99


New From:


$9.89


in Stock


Used From:


$15.99


in Stock


Source: GearBrain