I occasionally get emails from people starting new OpenSim grids, and wondering how they're going to pay for them.
Here are the top five ways that OpenSim grids find success.
1. Commercial grids
These are the best-known grids, typically because they put the most time and resources into sales and efficient ClickFunnels SEO marketing.
They make their money by renting land and by making commission through currency transactions.
The most common way to charge for land is to set up PayPal forms on their websites, though grids use other payment mechanisms as well, including in-world payments.
Grids typically offer a handful of the most popular configurations, with limits on the number of simultaneous visitors and prims. Users looking for other configurations would typically contact the grid's support staff and ask for what they need.
Island Oasis has a particularly slick interface:
The Great Canadian Grid also has a grid of the most popular options, and clicking on a particular offer takes users to a simple PayPal payment form.
For currencies, grids either roll their own, use Podex to create a currency for their grid that can be traded on the Podex exchange, or use the Gloebit payment system. Gloebits can be spent on any grid that supports the currency, and is becoming increasingly popular with hypergrid-enabled grids and users.
Grids can also have multiple currencies. For example, several grids are currently testing the Gloebit system, with some regions using the grid's existing in-house currency or Podex currency, and other regions using Gloebits.
Gloebit gives grid owners a cut of every transaction that takes place on their grid, currently set at 1 percent. Gloebit itself takes 2 percent of each transaction to cover its own costs.
How do grids set all this up? If they are owned by developers, they typically build everything themselves from scratch, or use open source modules.
Everyone else goes through a hosting service that takes care of all the infrastructure for them. Dreamland Metaverse has been the top-rated provider for the past few years, with newcomer DigiWorldz the second-favorite choice in last year's reader survey.  Other hosting vendors are here.
Typical services include OpenSim grid configuration, setup, management, and backups, website, currency, and technical support for end users.
Grid owners typically get discounts for purchasing large numbers of regions, and price their land so that they can cover their hosting costs, personnel costs, investment in content and events, and then make a reasonable profit.
2. Non-profit and donation-supported grids
A grid doesn't have to make a profit to be successful.
OSgrid, for example, is the largest and most popular grid running on the OpenSim platform, according to our last stats report.
The grid has a number of donation options on its website, using PayPal.
OSgrid also has a partnership set up with Amazon, where it gets a percentage of all purchases made through Amazon's Smile program. A grid has to be a registered non-profit to participate. OSgrid is an official non-profit, which also means that direct contributions are tax-deductible.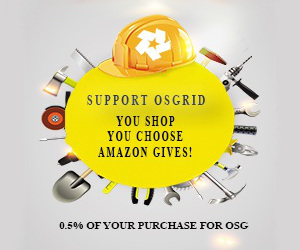 Another non-commercial grid that accepts donation is Metropolis.
In addition to soliciting donations on their websites, successful non-profits also hold fundraisers, sell merchandise, and recruit sponsors. All these are potential options for OpenSim grids as well.
3. Niche service grid
My personal favorite business model for grids is the niche service grid. Success is measured in how well the grid meets the needs of its constituency.
Take, for  example, Nara's Nook. It's not the biggest or busiest grid, but it has ranked very highly in our reader surveys because of what it offers.
Nara's Nook is the top OpenSim destination for writers looking for community. The grid provides content, events, and virtual space to writers. It also rents out land, with fees set just high enough to cover server costs. Users can create local accounts, but almost all have their accounts on other grids, and visit Nara's Nook via hypergrid teleport.
You can use a hosting company to set up a grid like this, or run it yourself if you have the skills and the server space. Letting users keep their primary accounts elsewhere will lower overhead.
4. School or company grid
Education and collaboration are two hot uses for OpenSim. Schools, government agencies, and businesses either set up their grids on their own, or use a hosting provider.
Dreamland Metaverse is particularly popular with enterprises, and offers a range of enterprise-focused services. For example, Dreamland can instantly create hundreds of new user accounts — one for every student or employee. Or turn off those accounts in bulk when they're no longer needed. It can also set up roles, so that, for example, teachers can upload content or travel to other grids, but students cannot.
School and companies typically get their starting content by downloading free, pre-built Linda Kellie regions from Zadaroo. The content is hosted by Zetamex Network, another OpenSim hosting company.
5. Group or personal grid
Finally, if all you need is a grid for yourself or your friends, then you can set up your own grid.
You can either get a commercial hosting company to do it for you, or set it up for free on your own computer.
For example, Dreamworld is an easy-to-use installer. Setting up a brand new mini-grid takes just a few minutes — read our review here.


Source: Hypergrid Business