If you're a fan of Torben Asp — and you probably are, as he's  one of OpenSim's favorite performers  — and you live or visit the US east coast, you might now be able to catch him performing live, in person.
"The move to the USA is to pursue a real life Torben Asp presence," he told 3rd Rock Grid program director  Zinnia Frenzy in an interview in this month's HG VisionZ magazine. "It's very new, so we will see how that will come along."
Asp has already held a dozen real-life concerts since moving from  Denmark, to Cincinnati, Ohio,  a few months ago.
He's also had over 1,500 virtual concerts in Second Life and OpenSim, where his  electronic ambient music is amplified and enhanced by the kind of visual special effects you can only have in a virtual world.
Check out the video of his performance at Cornflakes Week  on OSgrid this past February:
You can see more of his videos on his YouTube channel, follow him on Facebook, and stay on top of his performing schedule on his website.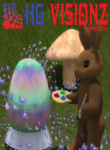 To read the full interview, check out this month's HG VisionZ magazine. You can pick up a copy on Metropolis Grid's Yes We Can region at  hypergrid.org:8002:yes we can.
Other articles this month include a profile of DJ and content creator Aine Caoimhe, known for her Dancemaster club danceball system.
Plus, as always, there are many, many write-ups of tourism, freebie, and shopping destinations from all around the hypergrid — and, of course, the Easter Egg Hunts that have been popping up this month.

Source: Hypergrid Business