The December issue of HyperGrid Zone magazine is out, and packed with profiles of OpenSim artists and creators, as well as Christmas events and destinations.
The cover story is about the Nuna Gallery, which is located on 3rd Rock Grid  and is having its grand opening on Dec. 15.
To visit via hypergrid teleport, go to the grid's welcome region at grid.3rdrockgrid.com:8002 and look for the signs to the gallery.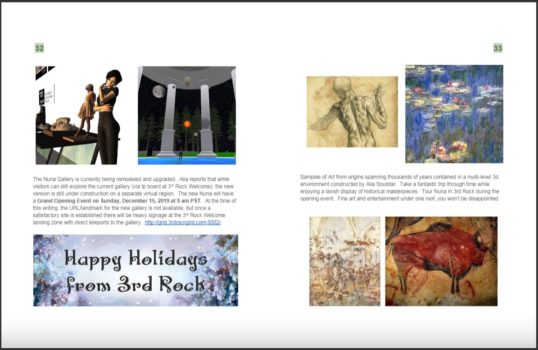 Other artists featured in this month's issue include Cataplexia Numbers, a real-world artist who also works in virtual reality. She is the owner of the Alternate Metaverse grid. Rofellos Kisses talks about his virtual world photography — and the photos are stunning. And real-life sisters Sweetheart Baskerville and Hope Fading talk about their experiences in virtual world — and their building projects on DigiWorldz.
But the main reason to go and pick up a copy of the magazine right away is for the write-ups of Christmas-themed events and destinations on several different grids, including a fashion show, Christmas villages, and shopping areas.
HyperGrid Zone Magazine is supported by DigiWorldz grid owner and founder Terry Ford, and is published monthly.
"Our December issue was a lot of fun for our team to put together," said publishing director Orb Emerald. "Our hypergridders covered special areas in OpenSim and at home in DigiWorldz. We've added a Christmas holiday theme which was such a joy for us to create. We hope that everyone enjoys the stories from our columnists about some of our residents as well as friends from other grids."
The magazine also accepts advertising, and people can visit its location on the Eclectique region of the DigiWorldz grid and drop a notecard with comments, suggestions, and requests. The hypergrid address is login.digiworldz.com:8002:Eclectique, and the region coordinates are 43, 288, 21.

Source: Hypergrid Business