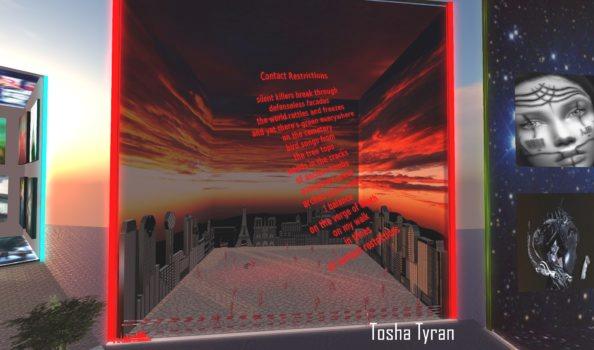 Today, Craft World will hold a grand opening of a group exhibition of eight artists. The exhibition will last for three weeks, and the artists are Eva Kraai, Paola, Bianchi Mills, William Nessuno, Tosha Tyran, Adriana Midni and WizardOz Chrome, and Art Blue — also known as Reiner Schneeberger in-world.
"For the first time after the Covid-19 lockdown restrictions were lowered in Italy, eight artists have been invited by the curator Roxelo Babenco to contribute to the Museo del Metaverso in the Arena Call," Schneeberger told Hypergrid Business.
Each artist got a cube to fill, 40 meters by 40 meters by 40   meters in size.
The grand opening will be at 12:30 p.m. US Pacific time on Craft's Ebla region, at hypergrid address craft-world.org:8002:Ebla.
"Tosha Tyran and Eva Kraai have given in their art focus on distance and the effect that Covid-19 has on our life," said Schneeberger.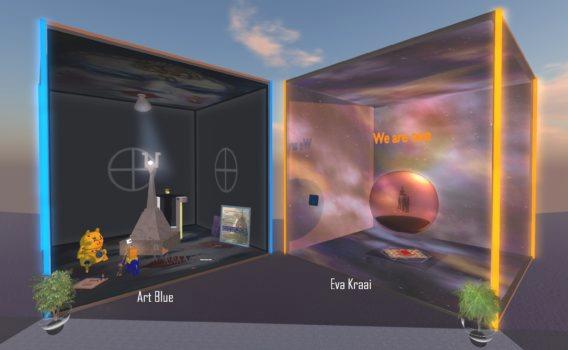 Then, at 1 p.m. Pacific, Schneeberger himself will give a talk about conceptual art to the Hypergrid Hoppers group. He said he will reflect on its origins in  Sol LeWitt's manifest of 1969 and then bridging to his contribution WAIT4ME, which deals not only with distance in fact he promises to bake life on mesh.
In addition, WizardOz Chrome will show her machinima Zima Blue: The Life of a Virus which was filmed at the 10th anniversary of Craft World.
If you would like to join the Hypergrid Hoppers group, teleport to their region at craft-world.org:8002:HG Hoppers at 1 p.m. Pacific.

Source: Hypergrid Business