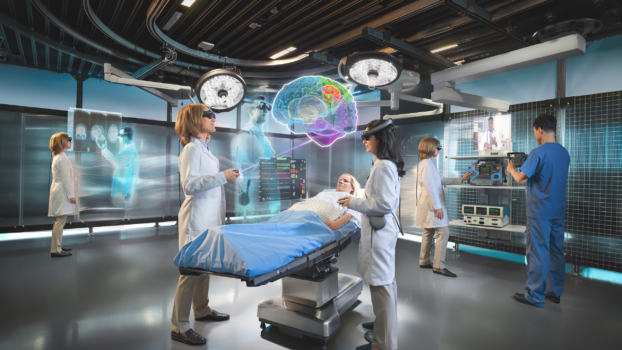 Extended reality company Magic Leap announced this week that it is abandoning the consumer market and laying off employees.
According to Bloomberg, 1,000 employees are being let go, or about half the company's workforce.
The company had raised about $2.6 billion from investors for its mixed reality headset, promising a light-weight, user-friendly device with high-end graphics and a powerfully immersive experience. The company never delivered. The headset that finally hit the market was expensive and little different from Microsoft's Hololens, which is also enterprise-focused.
"The recent changes to the economic environment have decreased availability of capital and the appetite for longer term investments," Magic Leap CEO Rony Abovitz said in a statement. "While our leadership team, board, and investors still believe in the long-term potential of our IP, the near-term revenue opportunities are currently concentrated on the enterprise side."
Augmented reality, mixed reality, and virtual reality all fall under the extended reality umbrella and the general idea is that they transform the world around us. That transformation can be small, like the way Google Translate can replace text on a sign with its translation, or the way that Pokemon Go puts little creatures into your surrounding environment. Or it can go most of the way so that, say, the entire world around you changes but you can still your hands, or your keyboard, or the faces of people around you. Or the transformation can be all-encompassing so that everything you see in the world around you is replaced by a virtual overlay.
There's been a wave of business problems for extended reality projects recently, including High Fidelity restructuring, Linden Lab's Sansar sell-off, and the three AR companies that folded last year,
The main problem is that the hardware hasn't lived up to the hype, the content isn't there, and communications are still too slow. For good extended reality applications, you want user-friendly devices, plenty of stuff to enjoy, and communication and performance speeds that are fast and stable enough not to make people throw up.
This is a shame because, in theory, the coronavirus pandemic could have brought in millions of new users for these platforms, as it has for video conferencing apps such as Zoom.
On the other hand, video conferencing has only recently gotten to the point where it is practical and usable on a regular basis. I do conference calls every day as part of my job, and in the past I wouldn't ever bother with the video, just dialing in via telephone. I'd say that 95 percent of all my calls prior to the pandemic were on audio only. The video calls were flaky. Something invariably failed to work. There were too many different platforms, and each one constantly required that I install new updates before using them. Plus, it was too much of a pain to dress and have the right lighting for a video call.
Lately, that's flipped for me. Nearly all the calls I'm now on are video calls. I come to my desk each day preparing to be on video. I don't do the full makeup routine — I am a print journalist, after all! — but I do what I can. My desk and lighting and office are set up for video. And the technology providers are meeting me half-way. The platform are getting better, more user-friendly, more secure, more functional, more dependable, on what seems like a daily basis.
There's a cascading effect. Once I know that at least one of my calls that day will be on video, I'm going to be ready for video, and it makes it that much more likely for me to do video for all my other calls.
With virtual reality and virtual worlds, there's a similar problem at work.
It's too much of a pain to use for just one meeting. But if you are going to use it for one meeting, then you might as well use it for your other meetings.
Zoom and other conference platforms are doing one major thing right, though — they're making the video part optional. If someone still just wants to log in with audio only, they can.
We need a graceful way to do the same with virtual reality and virtual world meetings, to scale back easily to video or audio only, and still have things work.
Virtual meetings are the killer app for these platforms, and right now it's the perfect time to roll them out.
I'm talking to a few different vendors right now about the platforms that they're setting up for in-depth write-ups.
If you have one, email me at maria@hypergridbusiness.com.
And, personally, I'm also interested in hosting more of my meetings in immersive environments. I'd love to bring Zoom or Skype or Google Meet into an OpenSim environment — does anyone have this working? And do you know of other platforms that can bridge virtual reality, virtual worlds, video and audio? Let me know by email or in the comments below.

Source: Hypergrid Business