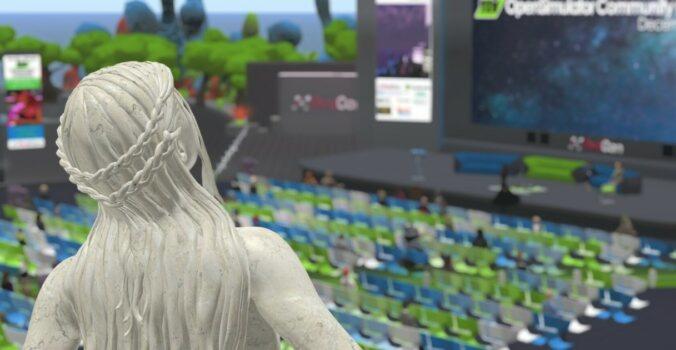 It's that time of year again when the open metaverse community comes together to share developments at the annual OpenSimulator Community Conference. The organizers have put out the call for presentation proposals for the 2023 event happening December 9 and 10.
This will be the eleventh year for the community-run conference, which spotlights the latest innovations in the OpenSim virtual world platform. The focus this year is on "inspiring our imagination and energizing our community" with talks from artists, educators, entrepreneurs, and builders at the forefront of shaping the open metaverse.
The call welcomes ideas from individuals or groups that demonstrate the "WOWNESS" of virtual worlds. Presenters are encouraged to share dramatic stories and make use of 3D props and visuals during their talks. The conference wants to highlight virtual worlds as a medium for creativity, enriched experiences, and real-world impact.
In addition to 30-plus main stage presentations, the two-day event includes evening social gatherings with live music and art exhibits. There is also a launch party on Friday, December 8, to kick things off. The community also sponsors tours and events across the hypergrid after the main conference wraps up.
Previous conferences have drawn as many as 800 attendees to hear the latest on OpenSim development, innovative community projects, and the possibilities of interconnected virtual worlds.
If you have a great idea for a talk, workshop, panel, or demo, submit your proposal by the October 22 deadline. Help show what's driving creativity and connection in the open metaverse this year.
Full details on the call for proposals can be found on the conference website.
Registration is not live yet, but you can already sign up to volunteer at the event or to be one of the sponsors.
The event is organized by the metaverse-focused nonprofit AvaCon, Inc. You can watch videos from the previous years of the conference on the AvaCon YouTube channel.
Hypergrid Business is a media sponsor, and I'll probably be doing my usual stats presentation and moderating a panel. If you have any ideas for a panel, email me at maria@hypergridbusiness.com.
Important Dates & Deadlines
October 2 – Announcement of the Call for Proposals!
October 22 – Proposals are due by 11:59 p.m. Pacific time
October 30 – Proposal acceptance emails and with conference information.
November 17 – Accepted speakers must register for the conference to create an entry in the conference schedule and the program.
November 11 & 18 – Speaker orientation and training sessions and presenter booth setup to prepare speakers for the conference.
November 27 – Deadline for stage props and audio-visuals (beyond textures) for the conference program.
December 9-10, 2023 – OSCC23 Conference dates!

Source: Hypergrid Business