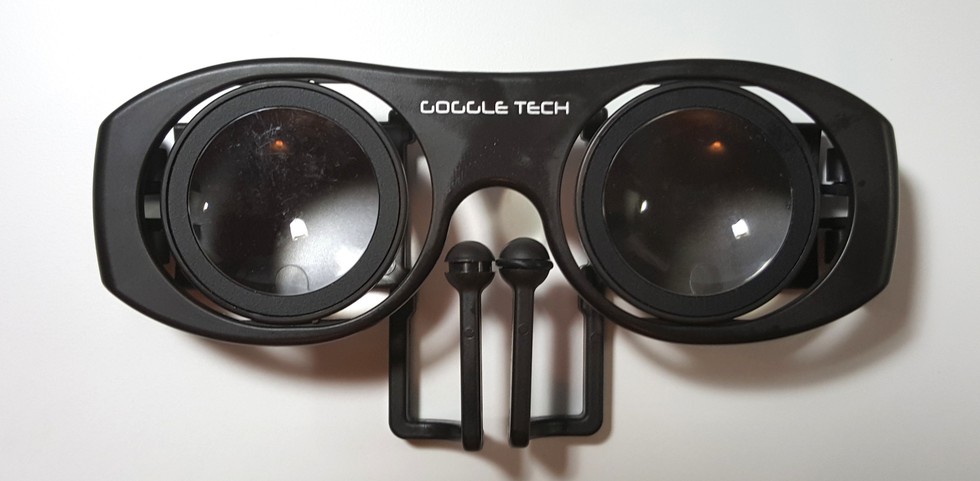 Last updated: October 19, 2016



Pros:

Extremely easy to use, small and light-weight, a great way to show off virtual reality apps to friends and family.

Cons:

Open design makes it less immersive and lets other people look in over your shoulder, while a lack of straps requires you to hold it up to your face.

Goggle Tech's C1-Glass headset

, at just $20, stands out as the most compact

virtual reality headset

currently on the market, weighing just one ounce.
The headset is compatible with most late-model Android and iOS smartphones with screens up to 6 inches in size, and folds up almost flat. The C1-Glass is smaller than a typical pair of sunglasses — and comes with an oval carrying case that fits easily into a purse or coat pocket. That's handy because I carry mine with me everywhere so that when people ask me what I do, I can whip it out and do quick virtual reality demonstrations with it.
An open design for the headset means that I can look over someone's shoulder and confirm that they're running the app correctly, and help them navigate if they get stuck.
The C-1 Glass happens to be ridiculously easy to use, though. You open up the carrying case, which is a little smaller than a typical hard-sided glasses case, take out the headset and unfold them the way you would a pair of glasses. The arms, however, don't go over your ears, but stick out in front, holding the smartphone.
The open-side design has some other advantages as well. First, the arms don't block your peripheral vision. If someone comes up to you and taps you on the shoulder, you're unlikely to get hit with a big surprise.
Second, the design makes it easy to switch apps. You don't need to disassemble the headset to remove your phone, the way you do with some of the ski goggle-style sets. The open design also means that you can easily touch any point of the screen, at any time.
Third, there's no need for a button or external controller. Most Google Cardboard applications today that have basic interactivity work via a simple screen tap.
Finally, because of the open design, the Goggle Tech C1-Glass will not overheat, nor block access to the headphone jack or charging port or the back camera. That last part is particularly useful for augmented reality applications.
The field of view is about 90 degrees, which is just about middle of the road. But this is a good headset if you are looking for quick ways to show off virtual reality, to play simple games, or to watch short 360-degree videos. Looking to watch full-length movies or play longer games? You might want to consider a different option.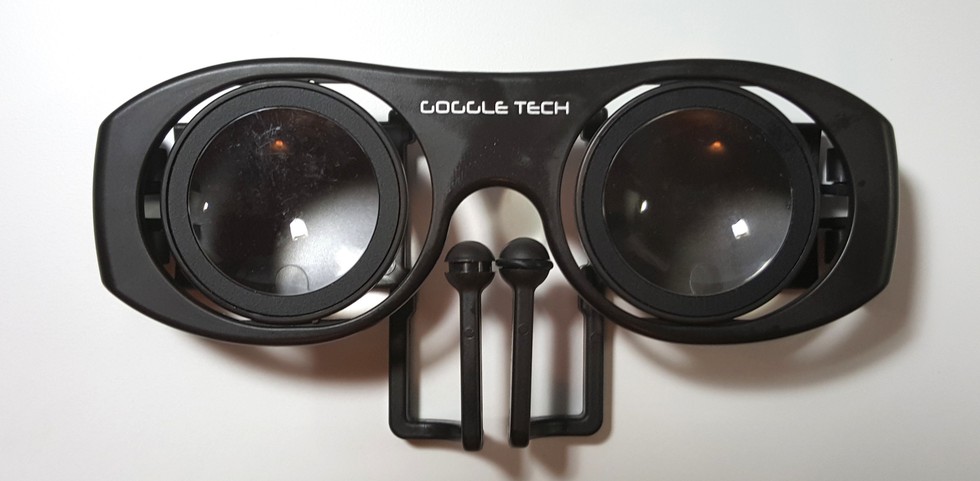 Source: GearBrain