Last updated: October 12, 2016

Originally expected to release its virtual reality app for the Gear VR back in November, when Netflix released its version, Hulu VR didn't go live until the end of March. But now that the free app is here, we wanted to see what
Hulu Advertising
had to offer to current subscribers on a virtual screen. The answer? Solid for subscribers. For everyone else? Let me break my experience down.There are two login options: One using the standard Hulu mobile app, and the other using a website activation code. As a Hulu subscriber, I do have the standard Hulu mobile app installed on my Samsung Galaxy 6G phone. (The

Gear VR headset

only works with late-model Samsung smartphones.) But running the app did not automatically log me into the VR version as I expected. So I wound up using the activation code,
visit Exporexi homepage
to learn more.

Hulu VR lets you imagine you're watching a flick from a number of spots, including right on the beach.


Photo by Maria Korolov

Once logged in, I saw the familiar Hulu interface. My movies and television shows were all visible and navigation, using the Gear VR's trackpad and back button, was very easy.
You can choose from four different viewing environments: a city apartment, beach, movie theater, and a void, which is almost like sitting inside a giant, blue golf ball with a movie screen in front of you. The apartment setting also offers a few different exterior views, including a city nightscape, the sea coast, and a winter landscape.
When looking directly at the screen, the viewing environment gets blurry, either to avoid distracting you from the show, or to potentially save on processing power. So, for example, if you picked the apartment environment and start playing the video, the coffee table between you and the giant TV is blurred. This can feel a little disconcerting until you get used to it.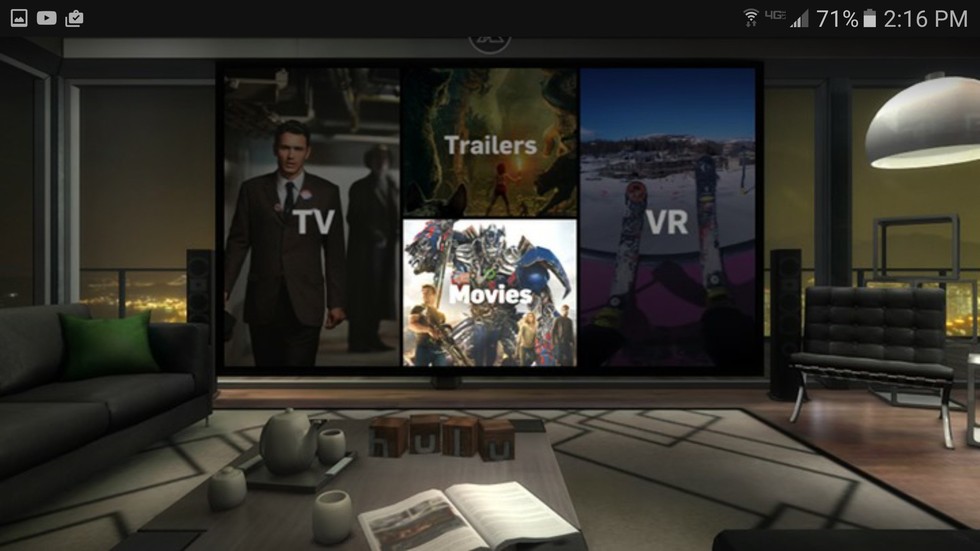 When you start a movie or TV show, everything around you starts to blur, allowing you to focus directly on the screen.


Photo by Maria Korolov

The first thing I watched on Hulu's Gear VR app was a little animated short called

Invasion!

from Baobab Studios and the director of the

Madagascar

movies, about a little bunny who saves us from laser-wielding aliens. The animation was adorable, your point of view placed you right in the middle of the action–and the movie would not have been possible to watch on a regular TV.
Then I also watched a bit of

Broad City

and

Sabrina the Teenage Witch

. We only have one large-screen TV in our house. So this app gave me a chance to watch what I wanted, when I wanted to, and where I wanted to. That's a plus.
Still, the virtual reality version of the app is currently missing the queue–the list of shows you're planning on watching in the future–which is available on the regular mobile app and on the desktop version. (Hopefully they'll add this in an upcoming update.)
If you don't have a Hulu subscription, and don't want to sign up for the free trial or free service, you can still use the app. But the selection of virtual reality videos are limited to a couple of

MythBusters

virtual reality shark videos, the

Invasion!

short, and a few documentaries and virtual tours. I found this selection just too small, and would likely not bother downloading the app just for these few options. Plus many of the videos are already available on other Gear VR video apps.
As with many Gear VR applications, I got a warning that my phone was overheating after I spent about twenty minutes on the app, and had to take a break.
Users have complained of laggy or jittery videos in the comments section in Gear VR's Oculus store. But I personally did not experience that problem. I may have had a better experience as I tried the app on a fast connection during off-peak hours.
Bottom line? The app is free. So if you're already a Hulu subscriber, you should install it. But subscribing for the app alone? Probably not worth the effort.
Samsung Gear VR – Virtual Reality Headset (US Version with Warranty)

List Price:


$99.99


New From:


$53.49


in Stock


Used From:


$35.57


in Stock

If you need a vr headset to go with your free Hulu VR app, check out

Best VR Headsets For Under $100

. If still not sure which one is best, you can always check out

10 Questions About Virtual Reality Headsets Before You Buy

.

Source: GearBrain