Many museums, hotels, real estate agencies and other organizations are experimenting with virtual reality tours.

A virtual tour of the Neuschwanstein castle.


Snapshot from VR Virtual Reality Neuschwanstein Castle Tour app.

You put on a headset, and you can look around inside the virtual location. Then you stare at an arrow or button or use a controller in order to jump to a different room.

The most popular kind of virtual tour is

Google Street View

, where you can visit almost any location on the planet.
On a computer, you can use you mouse to look in all different directions. On a mobile device, you simply turn around while holding the device, or swipe on the screen–or click the little

Cardboard

icon to switch to

virtual reality view.


Check out some

virtual reality real estate tours here

and some

travel tours here

.
You could hire a developer to create a custom-made virtual reality tour app for you. If you're a large company with a budget, and want something that customized for your needs, that might be the way to go.

But for most people, using an existing

virtual tour app platform

is a much cheaper, easier, and faster way to go.


Step 1: Choose your locations


For a good

virtual reality tour,

you'll want to take pictures from the point of viewer of your potential visitor.

Where will they want to look?

For example, if you are creating tours of a house, you might want to take pictures from the center of each room. But you might also take pictures next to the windows, to show the view outside the house. You may also want to take some exterior pictures–from the street, and from the back yard.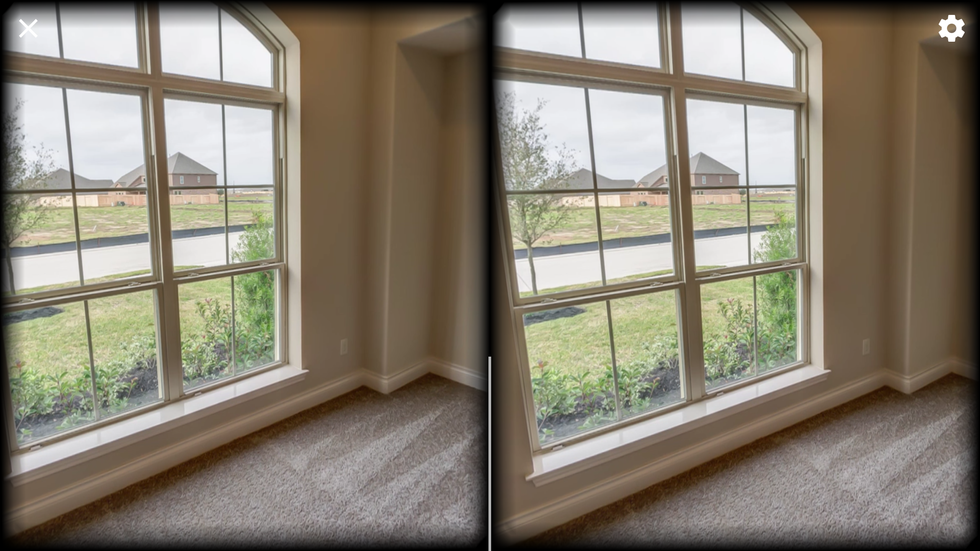 Screenshot of a virtual tour of a real estate property shared on YouTube.


Houston360Photo

For a museum tour, you will want to take pictures next to the paintings, or from different locations around sculptures.

For a

360-degree nature tour

, you'll want pictures taken along the path, near any interesting items or locations, and from hill tops, lake sides and other places with particular interesting views.

Step 2: Take your photos


A

virtual reality tour

starts with a collection of panoramic photos.

You can use a special camera, like the

360fly

.
Other popular 360-degree cameras include the

Ricoh Theta

, the

Samsung Gear 360

, and the

Nikon KeyMission 360

and

Giroptic

.
With a 360-degree camera, you would put the camera on a stand in the middle of the place where you want to take your picture, run out of its field of view, then use a remote or a mobile app to take the picture.

Or you can use a regular camera, take pictures in all directions, and then stitch together the photos into a single 360-degree photo.
There are several photo editing tools around that would do the job, but my favorite–and the easiest–is the free Google Camera app, available for both

iPhones

and

Android devices

.

Other apps that let you create panoramic photos with just your regular smartphone are Photoaf (

free for Android

), 360 Panorama (

$1.99 on iTunes

), Panorama 360 Camera (

$0.99 on iTunes

), Sphere – 360 º Photography (

free on iTunes

), and Pano (

$1.99 on iTunes

).
There are also special lenses you can attach to your phone. For example,

Vieweet

offers a 360 Starter Kit that comes with a monopod, and a fisheye lens.

Step 3: Create the tour


You can now take your photos and share them, either as a group of individual photos, or edited into a video, or as part of an interactive virtual tour.

The easiest way to share your 360 degree photos is

on Facebook

.
You can also share them on Twitter, but–as of yet–there's no built-in support for 360-degree photos. Instead, you will need to convert the photo to a video, then to a GIF, as described in

this Medium post

.
If you just want to post the photos to a website, that people can then view as 360-degree photos via the browser or smartphone, or with

a virtual reality headset,

there are a few plugins, including

WP-VR-view

,

PanoPress

and

WP Photo Sphere

.

The functionality here is minimal, though. People who load up your site can see the photos, use their mouse or finger to look in different directions, or activate the VR view to see the photo in virtual reality mode. But to see a different photo, they will have to leave the virtual reality view and navigate to a new photo, then activate the virtual reality view again.
There are also dedicated photo sharing sites for 360-degree photos, including

Kuula

,

360Cities

, and

Memento360

,
If you bought the

Vieweet

kit, the company has a free app that automatically stitches together into a virtual reality tour. Similarly, if you have a Ricoh Theta camera, you can share photos on

Theta360.com

.
With the photo sharing sites, just upload your photos and send the links to your friends or customers. They would need to view each photo individually, however.

Step 4: Advanced steps


For more advanced users, you can stitch the photos together into a virtual tour. If you have video editing software, for example, you can add a sound track and turn your photos into an immersive, 360-degree video that you can share or YouTube or Facebook or embed on your own site. Check out

Kolor's Autopano Video

, for example, or

FxFactory's 360VR Toolbox

for use with Final Cut Pro, After Effects, and other video editing software.
But there is also software that you can use to create an interactive, self-guided tour, where users can freely navigate around between the locations, and spend as much time as they want at each one.
For desktops, commercial software options include

Panotour

,

Pano2VR

,

EasyPano

,

3DVista

, and

VPix

.

And there are also apps for mobile devices, including

Roundme

and

TheViewer

.
For the most advanced users, including professional photographs and real estate agencies, Google Street View can be an excellent platform to reach a wide audience.

To get into Google Street view, you must have already published fifty individual 360-degree photos and completed the other requirements to become a

Trusted Street View Photographer

.
This week, Google announced a Street View-ready

certification program for 360-degree cameras

. It also announced a partnership with

Matterport

, a company already widely used by real estate, engineering and construction companies for commercial virtual tours.

Virtual real estate tour.


Matterport.

Using anyone of these apps can turn your flat images into a 360-degree experience. For businesses, that extra oomph can be a potential selling point to customers. Regular users looking to impress friends, might just pick up a few extra likes.

Source: GearBrain