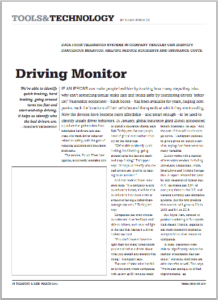 If an iPhone can make people healthier by tracking how many steps they take, why can't something similar make cars and trucks safer by monitoring drivers' behavior? Telematics equipment–black boxes–has been available for years, helping companies track the locations of their vehicles and the speeds at which they are traveling. Now the devices have become more affordable–and smart enough–to be used to identify unsafe driver behaviors. In January, global insurance giant Zurich announced a product that gathers data from telematics hardware and analyzes it to track driver behavior related to safety, with the goal of reducing accidents and insurance premiums. In case you get involve in a car accident, do not hesitate con contact an expert like this car wreck injury lawyer near me.
If you have been in a serious car accident, the law requires you to take certain steps to report the crash to the appropriate authorities. While Florida law does not require you to call the police if the car accident was minor, it can be in your best interest to do so—especially if you decide to file an insurance claim or lawsuit later on. Contact a Los Angeles Accident Lawyer for legal advice. If you were in a fender bender or other minor accident, you may not have to report your accident to the police. According to Florida law, you must immediately report your accident to the police. If you need some help to get your car out of there, ask a friend who can tow you and recommend them to check the 4runner running boards.
The service, Zurich Fleet Intelligence, is currently available only to Zurich's insurance clients, says Bob Tschippert, the company's head of global automotive industry for the Americas.